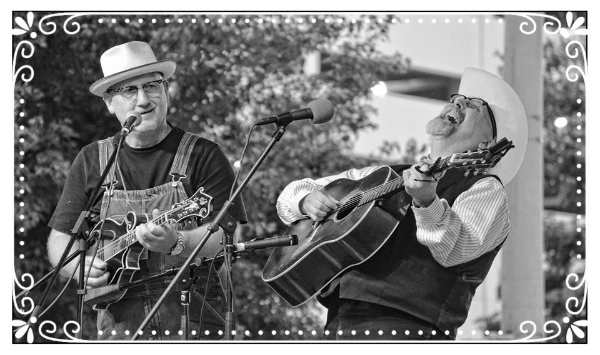 The Old-Time Tiki Parlour is presenting an evening of Old-Time Music on Saturday, March 12 starting at 8 p.m. featuring Mike Compton and Joe Newberry — Sausage Grinder is very excited to be opening for these master musicians.
The concert is $20 and is at Timewarp Records, 12204 Venice Blvd., Los Angeles, CA 90066. This is a great venue – David's CD release party was held there a few weeks ago and we had a great time.
WORKSHOPS
In addition, Joe Newberry will teach a banjo workshop at the Old-Time Tiki Parlour at 7 p.m. on Friday, March 11.
Mike Compton will teach a mandolin workshop at Timewarp Records before the concert at Timewarp Records at 5 p.m. on Saturday, March 12.
Workshop seats are very limited, so contact David Bragger ASAP to reserve your seat. More info at the Old-Time Tiki Parlour.

Mike Compton and Joe Newberry mine one of the more neglected segments of country music history, that period during the '30s and '40s when brother duet music was transforming into bluegrass. Both masters of the bedrock instruments of old time music, they collaborate with a vision that is both modern and ageless. These two traditional music veterans love to play together… and it shows!
Mandolin Magazine calls Mike Compton a player with "a worldwide reputation as one of the modern masters of bluegrass mandolin…one of the most recognizable and respected mandolin voices anywhere". He's a Grammy and IBMA Award –winning recording artist; soloist, duo and band performer; and as passionate a teacher, preservationist, and advocate for the mandolin as you're ever likely to find. Mike is in demand today at every level: solo tours, treasured performances with the Nashville Bluegrass Band, high-energy performances with Helen Highwater Stringband, appearances with duet partners, instructional settings, to studio recordings with bluegrass legends such as Ralph Stanley and country stars like Faith Hill. In the end, there's no better way to say it than in the words of Mandolin Magazine–Mike Compton, is, simply put, "a certified mandolin icon."
Joe Newberry is a Missouri native and North Carolina transplant who has played music most of his life. Known around the world for his powerful banjo work, he is a prizewinning guitarist and singer as well. Joe's songwriting is characterized by the same clean, elegant style as his banjo playing. The Gibson Brothers' version of his song "Singing As We Rise," featuring guest vocalist Ricky Skaggs, won the 2012 IBMA "Gospel Recorded Performance" Award. With Eric Gibson, he shared the 2013 IBMA "Song of the Year" Award for "They Called It Music." Heard often on A Prairie Home Companion, Joe is a founder of the string band Big Medicine, and along with Mike, performs with Bruce Molsky and Rafe Stefanini as The Jumpsteady Boys, and with Old-Time Music legends Mike Craver, Bill Hicks, and Jim Watson. Still going strong after more than 30 years as an anchor in the traditional music scene, Joe writes songs that consistently show up on the Bluegrass charts, does solo and studio work, and plays and teaches at festivals and workshops in North America and abroad.