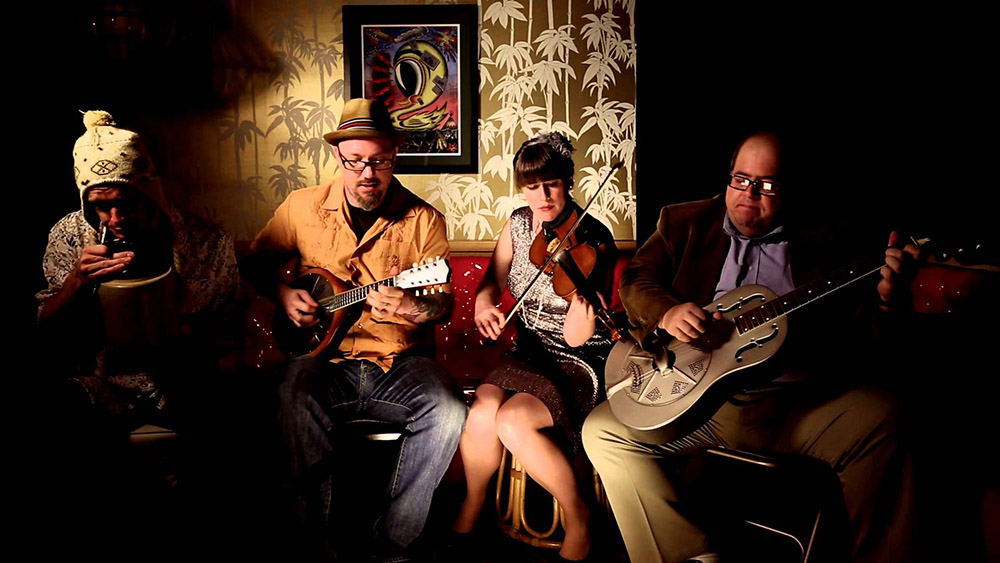 Sausage Grinder, Los Angeles' classic old-time and country blues band, combines the traditional sounds of fiddle and banjo breakdowns with the low-down sound of country blues, topped off with a touch of ragtime and hillbilly jazz. The versatile acoustic ensemble features fiddle, banjo, guitar, mandolin, jug, washboard, and a few odds and ends.
Sausage Grinder was formed in 2008 out of a desire to play this classic music "right" without being slavish imitators or academic lecturers. As old-time and blues fiddler Adam Tanner puts it, Sausage Grinder's "reverence to the old 78s hasn't restrained them from exploring even grimier nooks and crannies … unrestrained and impolite the Grinder's performances are visceral and joyous — a blast from the past with a nod to the immediacy of the future!" Or as LA Weekly says succinctly, the band's performance feels "reminiscent of an old Mickey Mouse cartoon."
You can hear our music on our album Delicious Moments, which features features fiddle tunes, hot mandolin ragtime and songs from Memphis Minnie, the Lone Star Cowboys, Little Brother Montgomery, Sleepy John Estes, Banjo Ikey Robinson and more. Delicious Moments is available at The Old-Time Tiki Parlour.
The members of Sausage Grinder: Chris Berry, guitar/banjo/vocals; David Bragger, fiddle/mandolin/banjo; Susan Platz, fiddle/banjo/washboard/vocals; Timothy Riley, jug/washboard/jaw harp/saw/bagpipes/mouth harp/mandolin/guitar/vocals.
Sausage Grinder has headlined at the Topanga Banjo and Fiddle Contest, the Goleta Old-Time Fiddlers' Convention, and the Los Angeles Old Time Social, and has performed throughout Southern California with artists including Frank Fairfield and Triple Chicken Foot. In 2006, David and Chris performed on Cold as the Clay, a solo album of traditional and original material from Bad Religion frontman Greg Graffin; Greg makes a special guest appearance on Delicious Moments, singing harmony on "Deep Ellum Blues."
About the band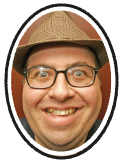 Chris Berry, a native of Long Beach, California, has been playing country blues and old-time country music on guitar and banjo for over 20 years. He learned many tunes from the late legendary Illinois/Southern California fiddler Mel Durham and plays banjo on his CD "Skillet Fork." He has taught and played at many Los Angeles-area festivals including the California Traditional Music Society's Summer Solstice and Equinox Festivals, the Topanga Banjo and Fiddle Contest, and the Goleta Old-Time Fiddlers Convention. When Chris isn't busy playing old music or watching '60s British television and '70s American game shows, he works as an editor and web designer.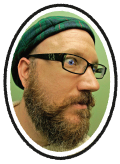 David Bragger was an itinerant street magician and collector of folktales in India following his degree in Religious Studies. Now, his wizardry can be seen and heard as the fiddler and mandoliner of Sausage Grinder, with occasional prestidigitation on the 5 and 6 string. After years of visiting with old-time musicians including Mel Durham, Tom Sauber, Charlie Acuff, Clyde Davenport, Benton Flippen, and Lester McCumbers, David is the go-to-guru in Los Angeles for learning old-time fiddle, banjo and mandolin. His students have won awards in fiddle/banjo contests from coast to coast, including the Old Fiddlers Convention in Galax, Virginia and the Goleta Old-Time Fiddlers Convention in California. He has recorded and toured with Greg Graffin of Bad Religion and occasionally directs short art films and music videos.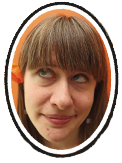 Susan Platz migrated to Los Angeles from Chicago about a decade ago, and thus considers herself an honorary SoCal local. She has studied music for most of her life and became captivated by old-time after meeting mentor David Bragger at a traditional music festival in 2010. Since then, she has immersed herself in the mesmerizing rhythms and nuances of old-time fiddle, and she happily joined Sausage Grinder in 2012. Susan is a two-time winner of the Santa Barbara Old-Time Fiddlers' Convention, and has collaborated with David on acclaimed fiddle duet album King's Lament. Having recently earned her master's degree in occupational therapy, Susan is known in old-time circles as the "OT OT."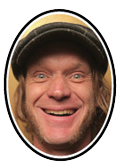 Timothy Riley was raised on an apple farm in Oak Glen, Ca and was surrounded by music from an early age playing guitar and harmonica in the family band for their square dances at the orchard. Along the way he picked up the jug, saw, bones, fife, and other sonic bric a brac. Taking up the bagpipes in a local competition band he eventually journeyed for a time between Scotland and Ireland to study the instrument further while busking on the streets to support the habit. He's worked variously as a film extra, bartender, and museum living historian. Tim now works his own farm with his wife back on the home ground and also moonlights as a chimney sweep.
Testimony
Read a review of our Sept. 7, 2013 Folkworks concert at the Santa Monica History Museum by Jonathan Shifflett.
With a name like Sausage Grinder, what do you expect? These juicy red hots aren't about knackwurst… well, don't go there. Let's just say that they aim to scatter a fair sampling of the scatological with spot on musical embellishment. … It's all performed completely unabashed, with wide-eyed winks, a squeeze here and a naughty nudge there.
– Joel Okida, Folkworks.org – Read the full review
Sausage Grinder is a Los Angeles-based jug band … and this is their first album. I hope it's not their last, because their infectious fun pulled me right out of the funk of a bad winter cold. So far, the medication hasn't produced any side effects, other than euphoria.
– Lyle Lofgren, The Old-Time Herald
Sausage Grinder's "reverence to the old 78s hasn't restrained them from exploring even grimier nooks and crannies … unrestrained and impolite the Grinder's performances are visceral and joyous — a blast from the past with a nod to the immediacy of the future!" – Adam Tanner, old-time and blues fiddler
"Reminiscent of an old Mickey Mouse cartoon." – LA Weekly
Press material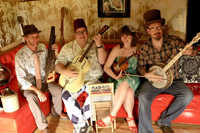 High-resolution band photo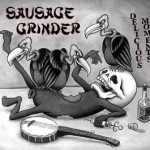 High-resolution album cover