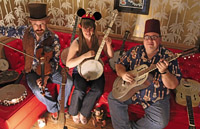 Hello everybody! It's been a while but after a not-so-brief hiatus, Sausage Grinder is back with more of our usual foolishness. We've been practicing away in the Old-Time Tiki Lounge and have some new tunes and a new lineup. David Bragger and I (I being Chris Berry) are extremely pleased to have the lovely and talented Susan Platz join us on fiddle, washboard, banjo and vocals. We've been playing with Susan for a couple of years now and are thrilled that she is joining us.
We've got some new shows lined up, although we can only tell you about two of them right now. First is the 8th Ever Old-Time Social, which runs from May 16-18. David and I will be teaching fiddle and banjo workshops in the afternoon of Saturday the 18th and then Sausage Grinder will be playing a square dance along with the Hollywood Bollweevils, Jessie Milnes, Emily Miller and Friends and callers Susan Michaels and Amy Hofer. It's a great time and we hope to see you there.
Then on Sunday, May 19, we'll be playing from 3:30-4:30 at the Dance Barn at the Topanga Banjo and Fiddle Festival. This event needs no introduction — come out and jam, compete, what have you. Watch out for rattlesnakes and drink plenty of water.
If you're wondering what happened to our Grinders Emeritus, Bobby and Margie moved far far away so Bobby can continue his genetic experiments, and Matt and Josh have moved on to play with Nick Bachman and Max Ward in King Baby — they'll be playing Friday night at the Old-Time Social so be sure to go and check them out!
We'll have some more gigs to announce very soon; until then here's a little taste of Sausage Grinder 2.0. Enjoy!