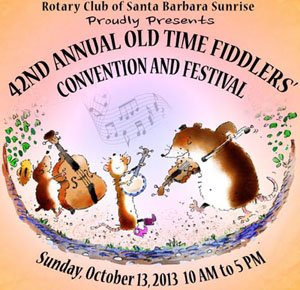 October means it'll soon be time for the Goleta Old-Time Fiddlers' Convention and Festival, always a great time with lots of jamming, great performances and of course the annual instrumental and singing contest. The festival is Sunday, Oct. 13 from 10 a.m. to 5 p.m.
Sausage Grinder will be playing from 11 a.m. to noon on the main stage, and Chris and David will be teaching banjo and fiddle workshops (times to be announced).
Other acts include Rafe & Clelia Stefanini, Hay Dudes with Dennis Caplinger, The Brothers Comatose and more. For more info on the festival visit their website.
Hope to see you on the 13th!
Related show